Life-Life Balance remains free (and ad-free) and takes us hundreds of hours a month to research and write. If you find any value in what we do, please consider purchasing one of our products below.
Thank you for supporting Life-Life Balance.
---
Books
---
Your Money, Your 20s
---
Release date: January 2017
Length: About 60 pages
Price: $2.99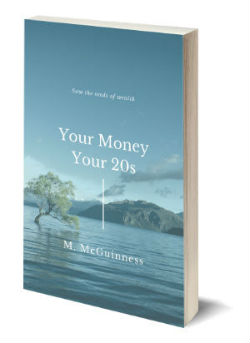 Synopsis
Your Money, Your 20s shares the fundamentals of personal finance management and the stepping stones for building wealth. Maureen discusses forming the habits and mindset for building wealth in your 20s. Targeted at 20-somethings, this book is useful for anyone who wants to manage their money better and with fewer worries.
---
Email course
---
Financial wellbeing: how to worry less about money
---

Release date: August 2016
Length: 11 days. One email per day.
Completed by 7,500+ students
Liked by: 87% of students
Price: Get access to Highbrow Premium for $2 a month when you buy an annual subscription by using this code: MCGUINNESS50OFF
Subscribe: Highbrow
Course description
Spend less than you earn. Pay down debt. Save for retirement.
We all know what we ought to do with our money. Why, then, is it so difficult to put into practice?
This course will explore the psychology of personal finance to help us replace our money worries with a sense of financial wellbeing.
What Previous Students Say
"Very well put together course that provided practical tools for people to implement."
"I appreciated the information about how behavior influences finances. I thought it was an overall well-rounded approach."
"This course was truly helpful. I'm thankful to the author for putting things in a simple and very convincing way. It made me acknowledge some bad decisions I've been making every day and make better ones."
---
New: Personal Finance Concepts
---

Release date: April 2017
Length: 12 days. One email per day.
Completed by 1,200+ students
Liked by: 100% of students
Subscribe: Highbrow
Course description
It can be difficult knowing where to begin with personal finance. What if you just want an introduction to concepts that you've seen in headlines or heard from your parents?
This course explains the most important concepts in personal finance and answers key questions, including: How much money do I need for retirement? What is a FICO score and (why) is it important? What is inflation?
Take the free course on Highbrow
---
Tools
Nomad Saver: Calculate your time until retirement around the world
This free online tool will open your eyes to early retirement possibilities