Life-Life Finance: The 10 Most Popular Personal Finance Books of All Time ($7.95)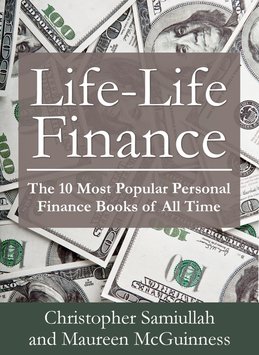 In this 60 page ebook, we summarize and evaluate 10 of the most popular personal finance books:
Summary One: A Random Walk Down Wall Street by Burton G. Malkiel
Summary Two: I Will Teach You to be Rich by Ramit Sethi
Summary Three: The Intelligent Investor by Benjamin Graham
Summary Four: The Millionaire Next Door by Thomas J. Stanley and William D. Danko
Summary Five: The Money Book for the Young, Fabulous & Broke by Suze Orman
Summary Six: The Richest Man in Babylon by George Clason
Summary Seven: Rich Dad, Poor Dad by Robert Kiyosaki
Summary Eight: Think and Grow Rich by Napoleon Hill
Summary Nine: The Total Money Makeover by Dave Ramsey
Summary Ten: Your Money or Your Life by Vicki Robin and Joe Dominguez
We also provide a "cheatsheet" to help you decide whether it would be worth your while to read the full book.
We've priced it at $7.95 (plus $0.99 for UK VAT), the price of one of these personal finance books. Not too steep for advice which we hope will save you hundreds of thousands of dollars over a lifetime.
When you buy it, you will be able to download it as a pdf, a .mobi file (to read on your kindle, for instructions see this post), and a .epub file to read on lots of different mobile apps. No restrictions, no setup. If you are not satisfied, send us an email and we will refund your money no questions asked: thelifelifebalance@gmail.com
You can purchase the book here