Funding Circle is an online platform that enables individuals to lend money to small UK businesses for a fixed rate of interest. Similar to crowdfunding for equity, individual investors lend money through the platform as loan parts which are assembled as loans to businesses. Using loan parts helps investors spread the risk of their investment e.g. when investing £1000 an investor does not have to lend that amount to just one business but can use £1000 to lend £20 to 50 businesses or £40 to 25 businesses.

Finding businesses to lend to
As an investor you can read up on the business you're lending to and pose questions to the business-owner before investing. Funding Circle goes one step further than other peer-to-peer lending platforms by encouraging business-owners and investments to interact with each other. If you're a hands-off investor and you do not have a lot of time to read up on each business then you can use the autobid function which means that Funding Circle selects businesses for you to invest in based on your tolerance for risk.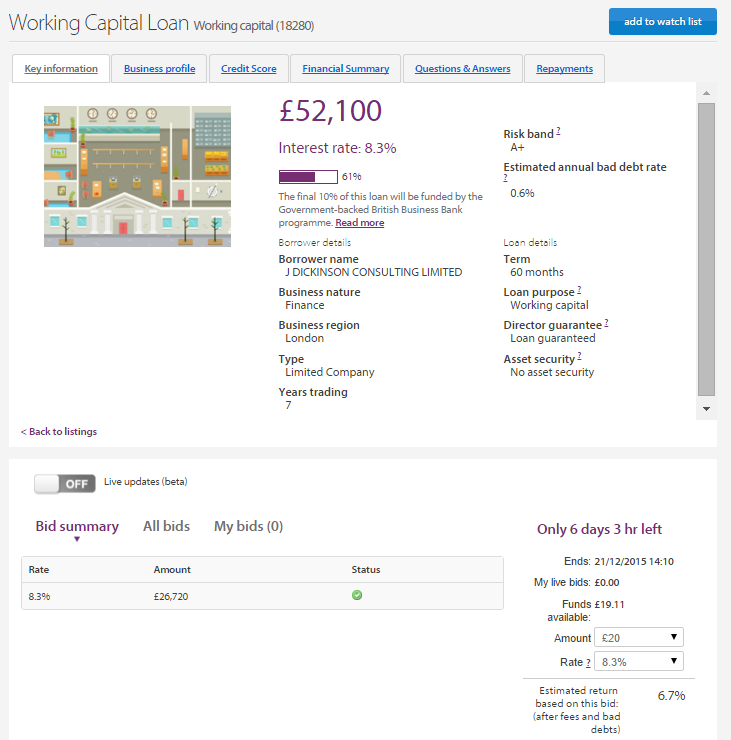 Will I lose money?
Funding Circle assesses every business and will only accept businesses which are established and creditworthy. Every business that passes the assessment is given a risk band to guide on their relative strength - from A+ (lowest risk) to E. The estimated bad debt for A+ is 0.6% whereas for E businesses it's significantly higher at 8%.
The current estimated annual return is 7.2% after fees and bad debts.
Like all investments your return is not guaranteed. Even with the losses that have occured on my account I am still seeing a positive return of around 5.5%. Since April 2014 peer-to-peer lending has been regulated by the Financial Conduct Authority which means better protection for investors.
How interest is calculated
The current estimated annual return is 7.2% after fees and bad debts. The current estimated return is calculated by taking the gross interest rate less fees and estimated bad debts that will occur in the future for each of the last 100 loans accepted on the marketplace. The average return is compounded and before tax. The return is updated daily.
What happens to repayment
The interest you earn is paid by businesses on a monthly basis. During the month, you accrue interest daily.
What happens to late payments or defaults
Funding Circle's Recoveries Team works with the business to recover as much of the loan as possible in order to minimize losses to investors. The team updates the comments on the relevant loan part to keep you up to date on the recovery process.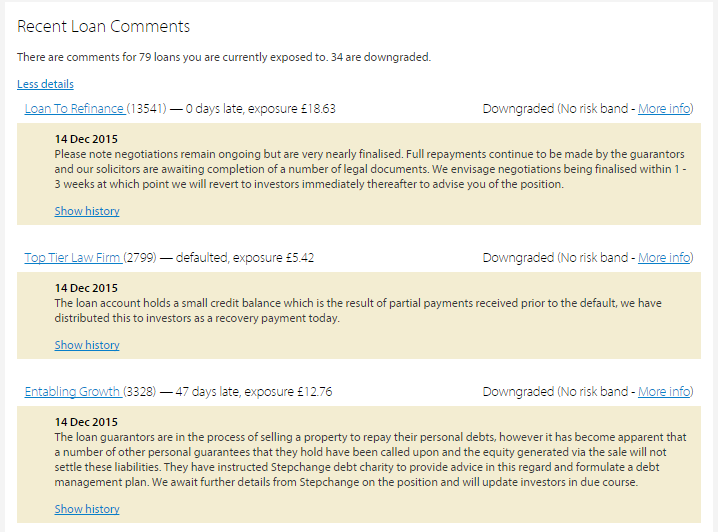 Paying tax
The interest you earn on money lent through Funding Circle will be taxed in the same way as normal savings. If you're a basic-rate taxpayer you pay 20%, higher-rate 40%, top-rate 45% in tax. You will need to fill out a self assessment tax form and you can download the annual statement from the Funding Circle platform.
Better than using a bank
Since its inception in 2010 Funding Circle has attracted 40,000 individuals, the UK Government, local councils, a university and a number of financial organisations. By October 2015 Funding Circle had lent out $1.5 billion funding 15,000+ business loans. What makes the platform popular?
Win-win for investor and business-owner
Investors and business-owners get more from using the Funding Circle platform than from using a traditional bank to achieve the same aims. Business-owners that may have otherwise struggled to gain capital from a bank can use lending platforms like Funding Circle. At the same time investors who've earned an abysmal 1% interest rate on their savings accounts in recent years have access to some of the best interest rates through Funding Circle ranging from 4 - 8% after deductions (admin fees to Funding Circle and losses from businesses that have defaulted on their loans, which does happen from time to time hence the benefit of spreading your money across multiple loan parts).
Medina Capital Investments is an example of a property development business that was unable to obtain enough capital through a traditional bank, not because it was a risky investment but because banks don't seem to have the capital to invest in large property developments like they used to. Medina Capital Investments managed to get the full £640,000 to develop two family homes in West London.
Read about my visit to Medina Capital Investments latest property development.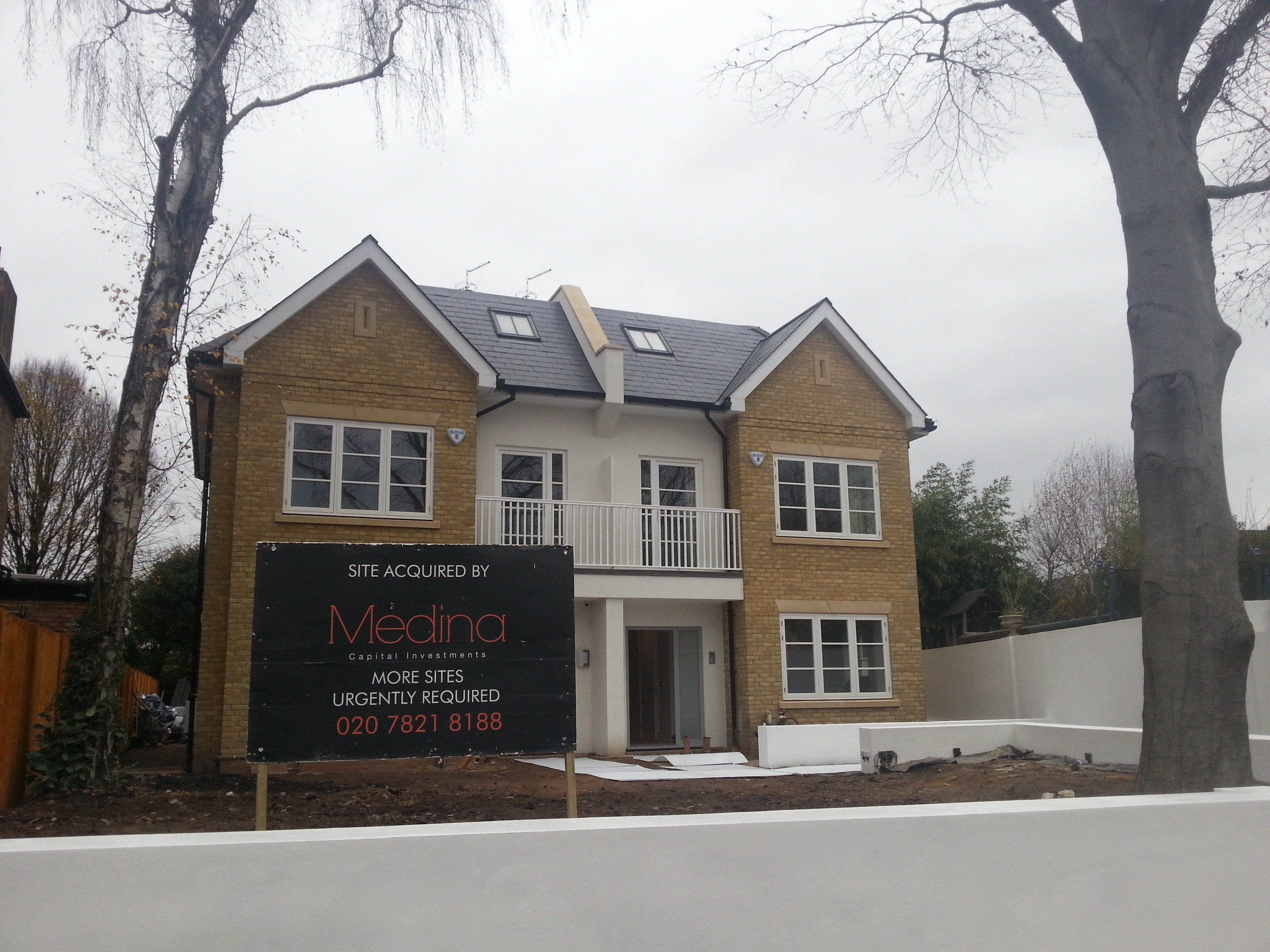 More than just a high interest rate
Funding Circle attracts investors because it has beaten every cash ISA and regular savings account on the market for the last 5 years and that's just based on the interest rate. Both cash ISAs and regular savings accounts limit your contributions, impose strict withdrawal rules and offer a maximum 6% interest before tax - if you're lucky. With Funding Circle you can invest a lump sum (the minimum investment is low at £100) or you can invest every month making contributions more flexible. You can combine the two by contributing a lump sum at the start and then setting up a regular investment linked to your current account.
Passionate business-owners with in-depth knowledge
At the beginning of December 2015 I visited Medina Capital Investments, one business of around 300 that I've lent money to through the platform since I first invested in 2012. A London-based property development company, I was visiting their latest project that was close to finishing - two family homes in West London. Just 12 months previously the same piece of land on which the development had been built sat a large derelict house that hadn't been lived in for many years.
I joined the CEO of Funding Circle, Samir Desai and the business-owner, Nidal Al-Khail to see the house which was about 95% complete (rain had delayed the laying of turf in the garden). Nidal's been in the property business for nearly 10 years and his enthusiasm for property is still very much apparent. He showed us the details of his latest property and points out aspects that he was insistent on such as a shadow gap instead of a skirting board. The small details are important to Nidal and shows just how much he knows about the property world.
Read more about my visit to Medina Capital Investments
Growing the UK economy instead of fueling consumerism
As an investor of both Funding Circle and other peer-to-peer lending platforms that do not lend to businesses, it's easy to see how both types of platform would work well in any portfolio. Unlike other peer-to-peer lending platforms, Funding Circle uses the money lent by investors to help grow businesses which makes my investment feel more valuable.
When I look at my loan book on other p2p platforms, which shows details of individuals I've lent to (not businesses like Funding Circle) and what the money is being used for, I'm pleased to see that many borrowers are using the platform to enhance their personal situation: to consolidate their existing debt, to help pay for the costs of having a baby or to improve their home prior to selling it. Unfortunately I also see less encouraging behavior such as a 23-year-old borrowing £25,000 for a new car or a 40-year-old borrowing £3,000 for a holiday. I don't have any say on how individuals use my money and it feels less responsible to invest in a peer-to-peer lending platform that isn't encouraging positive money behaviour. This is one of the reasons I've only lent the most money to Funding Circle.
Funding Circle lends to businesses that are adding value to the UK economy: providing improved services, products, jobs and paying taxes whilst all the time reinvesting their profits. As a result it feels easier to invest more than double in Funding Circle than I invested in other lending platforms.
£20: Not just a round of drinks but a long-term investment
Now that I've seen how my money is used, I'm even more convinced that Funding Circle provides a great opportunity to all investors. By investing as little as £100, you can help expand five businesses and also earn a great fixed interest rate - one that still beats all of the high street banks.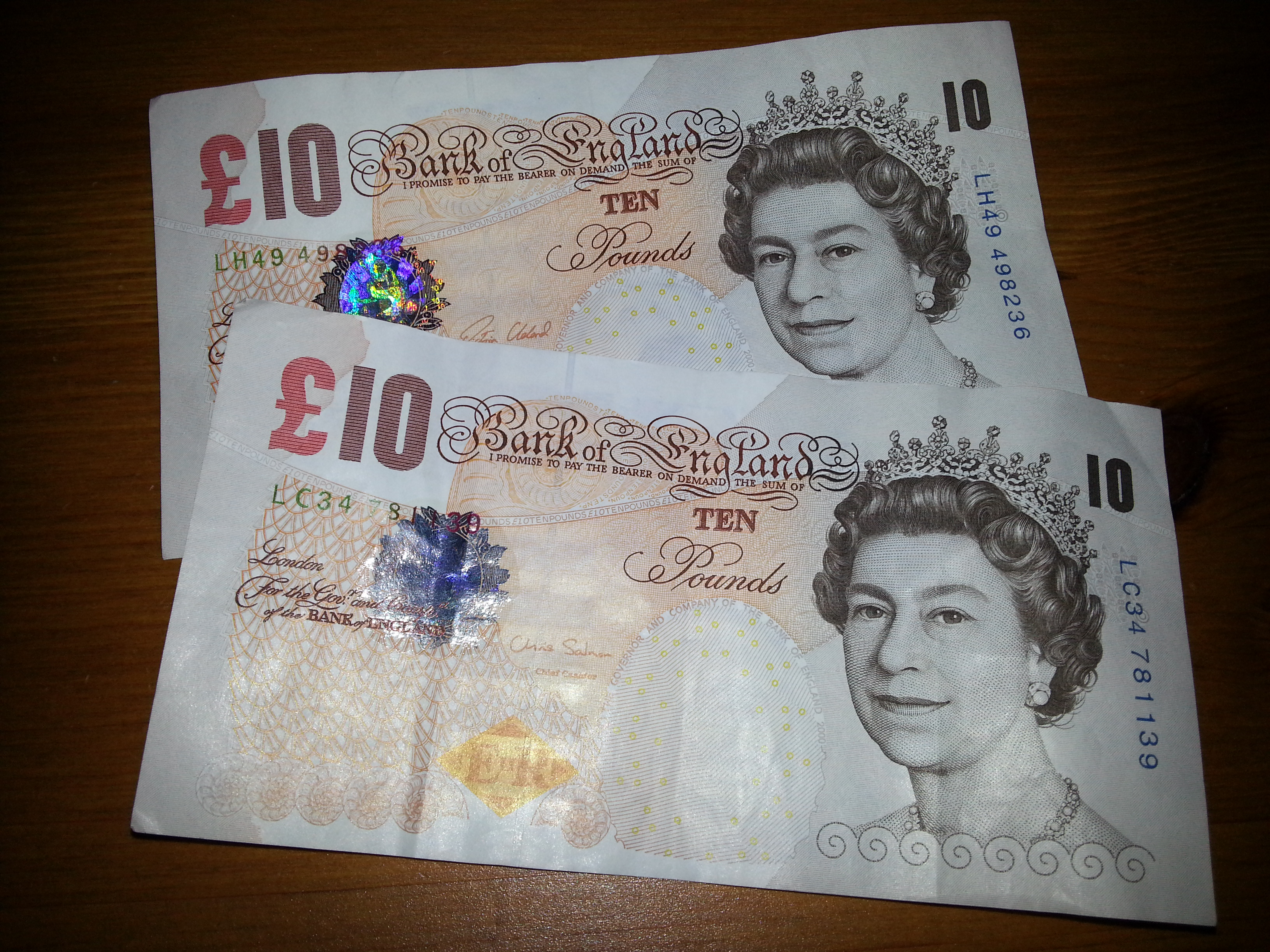 What is £20 worth? With £20 you could buy a round of drinks for a few friends in London, pay your monthly bill for your iPhone, or you could lend that £20 to a growing business. The £20 is repaid within 12 months (or less/more time depending on the length of your investment term), you pocket the interest on the loan and if you're still keen, you can buy a round of drinks to celebrate with the original £20 you invested. Or you can reinvest it. You can adjust your Funding Circle account settings to automatically reinvest your money.
With £20 you could buy a round of drinks for a few friends in London. Or you could lend that £20 to a growing business.
A personal investment platform
I found the whole experience helpful and interesting. Transparency is essential to any good business relationship and the visit has increased my faith in Funding Circle as a long-term investment vehicle. It's important to highlight that there's no hierarchy at Funding Circle for these visits: I was invited to visit the business even though I'd only lent the minimum amount of £20.
Similarly in July 2015 I was invited to an investor evening so that I could pose questions to Funding Circle on changes to the platform. I'm not a high net worth investor with Funding Circle (several investors have tens of thousands invested) but I'm made to feel like a valued investor. I can be as involved as I choose and I can easily withdraw my money if I need to but, why would I when I earn stronger returns than any other investment vehicle in my portfolio? If you've been nervous about trying a different approach to investing it's time to abandon your bank and join the peer-to-peer revolution. Your loyalty will be rewarded.
If you liked this article, try reading...
All information provided at Life-Life Balance is for informational purposes only. Maureen McGuinness is not a qualified financial advisor. Before making any decisions on your finances you should seek advice from a qualified advisor.