For most people, weddings are staggeringly expensive. Of course, no one wants a crap wedding...so is it possible to tie the knot in style without breaking the bank? The answer is yes: Here is a guide to get you started, with a complete budget breakdown and loads of great tips.
The following is a guest post by Urs Suess. He and his wife Gemma got married in the summer of 2016 for under $6000. The wedding occurred in the UK, and had about 60 guests.
---
Nowadays the cost of experiences is going up, potentially because we are now more pressed for time and are willing to pay for that "perfect" moment. A great example of this are ever increasing music concert prices. However, weddings take the cake on how expensive an experience can get. So, when Gemma (my now wife) and I decided to get married, discussions about our budget came up very quickly afterwards.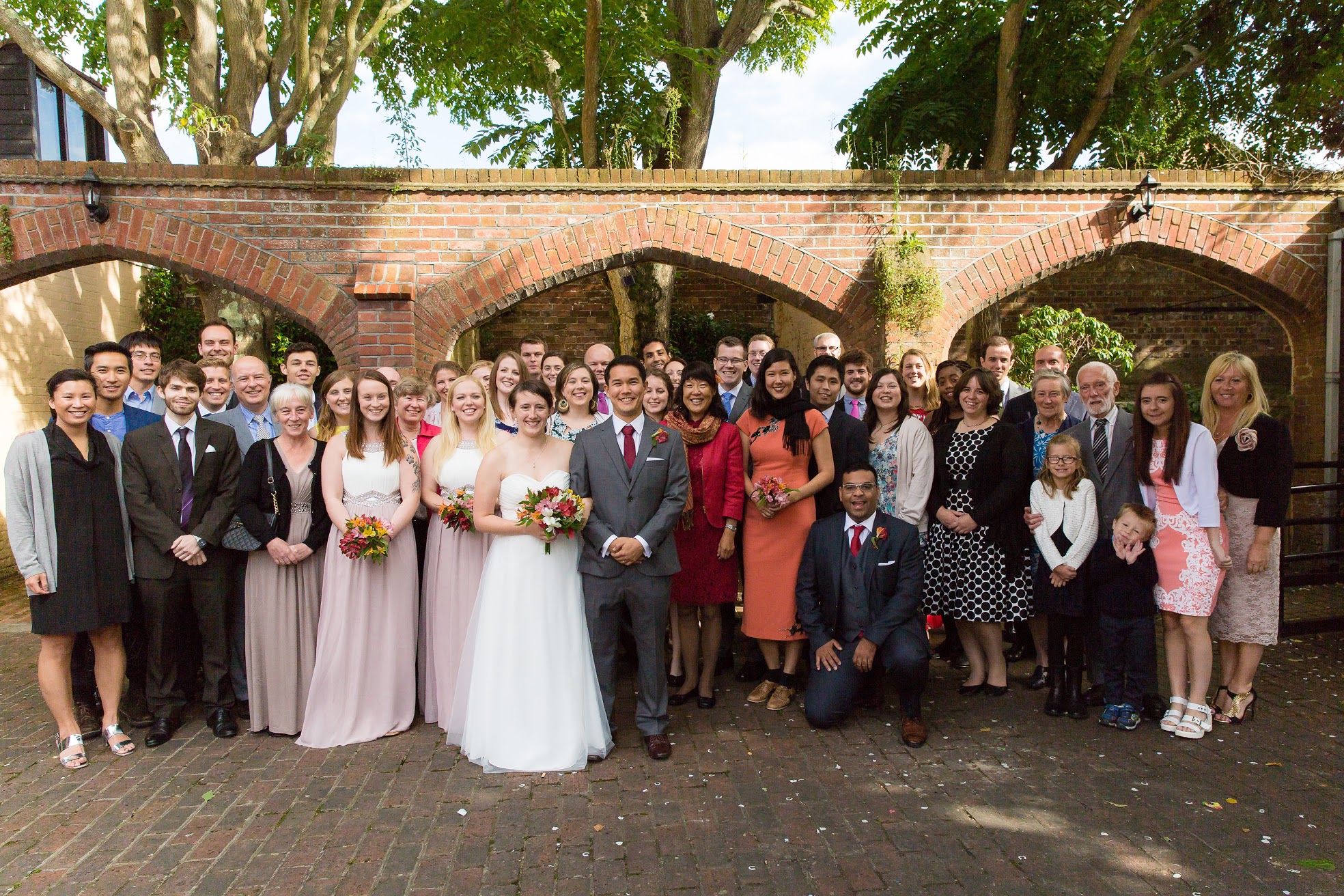 To give some perspective of where we were at the time, both Gemma and I had just returned to the UK after spending 9 months traveling abroad. We achieved this by saving a reasonable percentage of our wages (around 38% of my monthly salary) when working and then spending ~£37.50 per person per day while on the road. Neither of us had that much money nor, perhaps more crucially, a strong desire for a very large and expensive wedding.
In the end, we were very happy at how the wedding turned out; it was a fantastic day to remember with all our closest friends together.
As you can imagine it took quite some time and effort to get to that point. When Chris asked me to write this post, I was glad to share how we managed to pull things off.
Budget
Let's start with a budget breakdown of how we spent £4,755 ($5,935) for our wedding:
Reception venue: £900.00 (Large house in nearby town with accommodation space for guests)
Photographer £860.00 (Coverage from ceremony start at 1400 till 2000, including portrait session)
Catering £625.00 (Hog roast)
Drinks £457.89 (For open bar)
Rings £435.00 (Wedding bands)
Decoration £386.19 (Fairy lights, marque, guest frame, pens, signs)
Wedding Ceremony £366.00 (At local registry office)
Self-Catering (£343.58 Food + Non-Food items)
Gifts £229.77 (For friends and family)
Bride's Dress £118.50 (Including shoes and cardigan)
Flowers £20.00 (For bouquet and lapel)
Entertainment £13.16 (Speaker cables, music sorting app)
Total Cost £4,755.10
How did we approach the wedding?
Having attended a few of our friends' weddings in the past couple of years, we had experienced for ourselves what it normally entails. To organize a wedding that we both wanted, we had to make sure we were on the same page. This meant:
talking through what each of us prioritized
what we were willing to pay for
what we were happy to do ourselves.
This is a crucial step not only for creating the budget but also manage expectations of what the wedding will be, it's all about communicating expectations!)
Tactics used
We followed this basic structure whenever making any decisions related to the wedding:
Where on our priority list is it?
How much are we willing to pay for it?
How does the cost compare to the inconvenience if we did them ourselves?
Where can we find the best deal?
Although, as I mentioned above, Gemma and I had just returned to the UK from abroad, we were once again preparing to move away, this time to China. We wanted our wedding to be held in the UK which meant that it was crucial to complete the major items on the list of priorities while we were still in the country. We came up with the following priorities:
Reception venue
Photographer
Catering
Looking at the list above, and the previous summary table, you can see that these three items turned out to cost around 50% of our total expenses.
Reception Venue
We wanted to ensure that the event created a relaxed environment where we could catch up and celebrate with our closest friends. This also meant that we could keep the invite list relatively small at under 60 people, an important factor when it comes to the overall cost of the wedding.
Using the points above, we found the cheapest way we could get legally married; which was to use the local registry office. This was helped by the fact that neither of us are religious and by the registry office having a beautiful hall which we could use.
Using the booked ceremony date at the registry office as a fixed point we could now look for a reception venue. Our venue choices included: local village halls, pubs who'd cater to our needs and large houses which we could rent.
Initially we preferred the idea of a village hall, as it provided a sort of blank canvas for us to decorate in and set up. However due to unforeseen circumstances, the one we wanted was not available and the others we saw were not located near any affordable accommodation for our guests. During our search for pubs, the ones we liked the look of either did not cater for big events or were already booked out. So, we ended up hiring a house which we found on Airbnb, with a fantastic back garden. We contacted them directly and got a great deal for the wedding weekend where we had access to the venue the day before and after. The house included space for half of our guest to stay keeping their costs down. This justified the larger overall cost compared to our other options.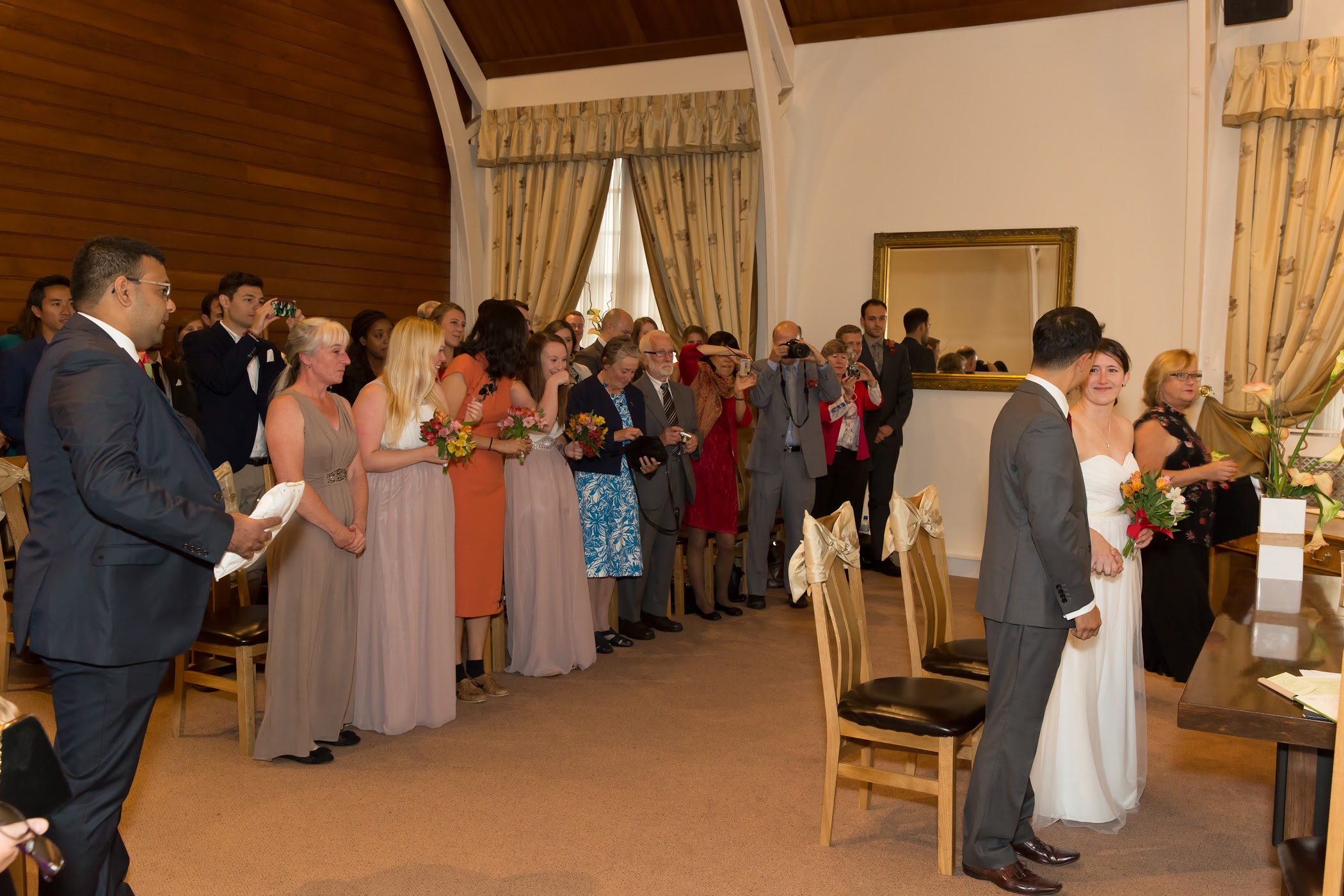 Photographer
We found our photographer by scouring links online and talking to friends who've already gotten married, to get an idea of costs. We felt that the photographer we chose was a great combination of reasonable cost as well as the style which we both enjoyed. A cheaper option could have been asking one of our friends to photograph our wedding for us, however I've always felt that by doing that you not only take your friend out of the celebrations but also put a lot of pressure on them to perform. I did not believe that it was worth straining a friendship in that way.
Catering
Food for the wedding was always going to be some sort of buffet. We preferred the idea of a buffet style as it provided a more economical option as well as the ability for us to easily add our own additions to the menu. We also liked how a buffet style meal meant that people would have to get up from their seats and talk to other people, while getting food. Since we are both huge fans of pork, a roast pig seemed like the logical option. After enquiring about a few local roasting options, we found the one that had the best cost per person ratio and even doubled up on portions to ensure that we had enough food, you can never have too much pig!
Once those main items were in place and booked, we could concentrate the rest of the time we had (around 10 months) on completing the wedding preparations piece by piece.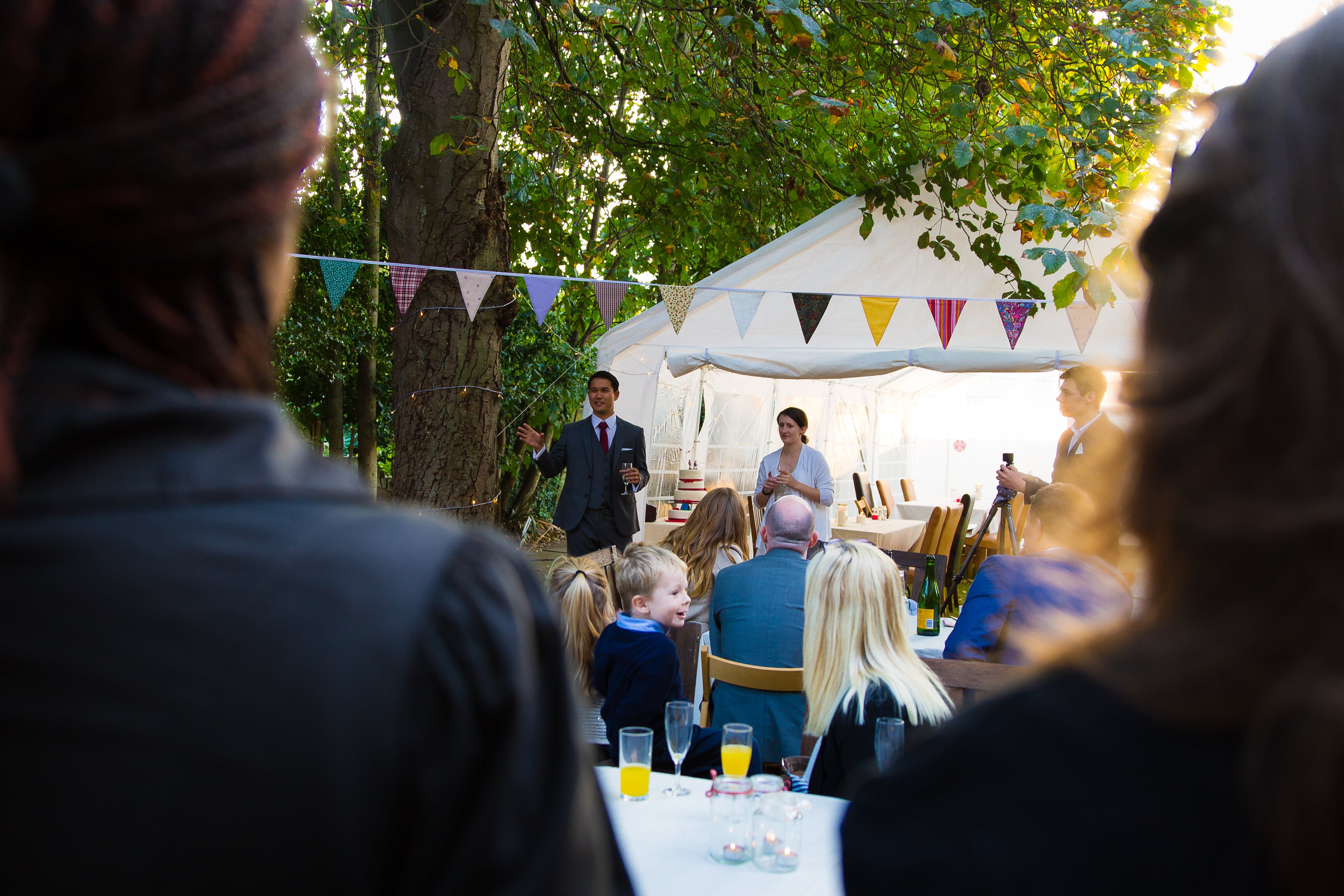 Invitations and Gifts
The first thing we set up was a website for the wedding:
http://smithsuess2016.wixsite.com/wedding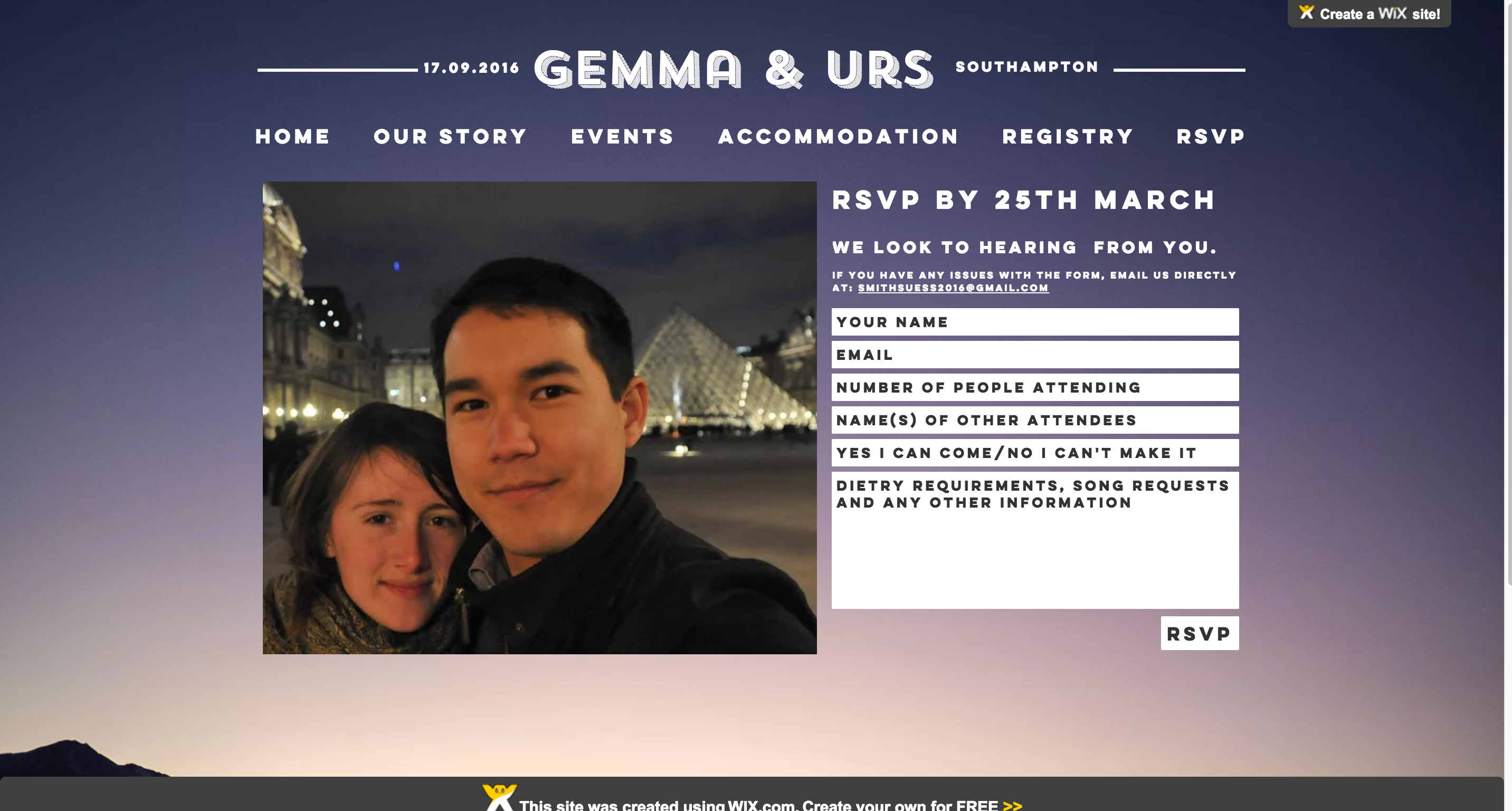 We went with Wix.com due to the fact they had a great selection of themes and using their website can be done for free. This allowed us to put relevant information for our guests as well as get RSVPs from those who could attend. To make things simple we sent out our wedding invites online, through the normal channels we'd use to contact our friends (i.e. Facebook, WhatsApp, email), which went in the face of many guides on how you were "supposed" to invite people for a wedding.
This brings us nicely to an issue Gemma and I had a lot of back and forth with: the registry, or gifts. I understand that traditionally the gifts given at a wedding reflect the fact that the newlyweds were about to move in together, in a shared space, for the first time. This meant that lots of the items would be household goods.
However, to quote the website: "As you all know, we currently don't have a house, job, or even a consistent country of residence. This makes the gifts a bit of a pain in the arse". So logically contributions towards our wedding / honeymoon would be the best answer.
My experience with Chinese weddings, where money is normally the only form of gifts, made me perfectly happy with the idea of making it as easy as possible for guests to contribute. This was one of the most contentious issues, when reading guides online about weddings. Gemma also felt quite awkward to outwardly ask for money as gifts. In the end, I am happy with this method for our circumstance as well as the fact that we were inviting friends who knew us and that is shouldn't be awkward.
Details of our methods
Spreadsheets were used extensively to project our costs and track them.
We had the time to shop around and find deals in the run up to the wedding:
Bought rings (£435) while we were in Germany visiting family
Bulk bought wine, prosecco, spirits and mixers when they were on offer
Used comparison website to find the best deals: https://www.mysupermarket.co.uk/
Buy from cheap online retailers:
Wedding dress was from TaoBao (£30), Chinese version of eBay
Fairy lights (hundreds of meters of it) and garden flood lights from eBay (£115.4)
Find things second hand: Marquee for the garden, heavily discounted price found on Gumtree (£270)
We picked up left over glasses from a local beer festival which we attended, so that we could use them at the wedding
We rented things when cheaper and easier to find: folding tables, free hire of glasses from Waitrose (a big money saver)
Use things that we already had / borrow from friends and family:
3-piece suit I already owned with tie and shoes
Set up our friend's and our own sound system to play music at the venue
Used current Google music subscription to craft custom playlists, with the help of STAMP to organise them per BPM / energy
Used candles and jam jars from friends and family
Family brought their projectors, which we used to show various media which we created
Friends brought some extra chairs
Wherever possible, we did things we ourselves or with help from friends, particularly stocking up the bar (We were fortunate enough that one of our friends gifted 150 bottles of homebrewed beer).
before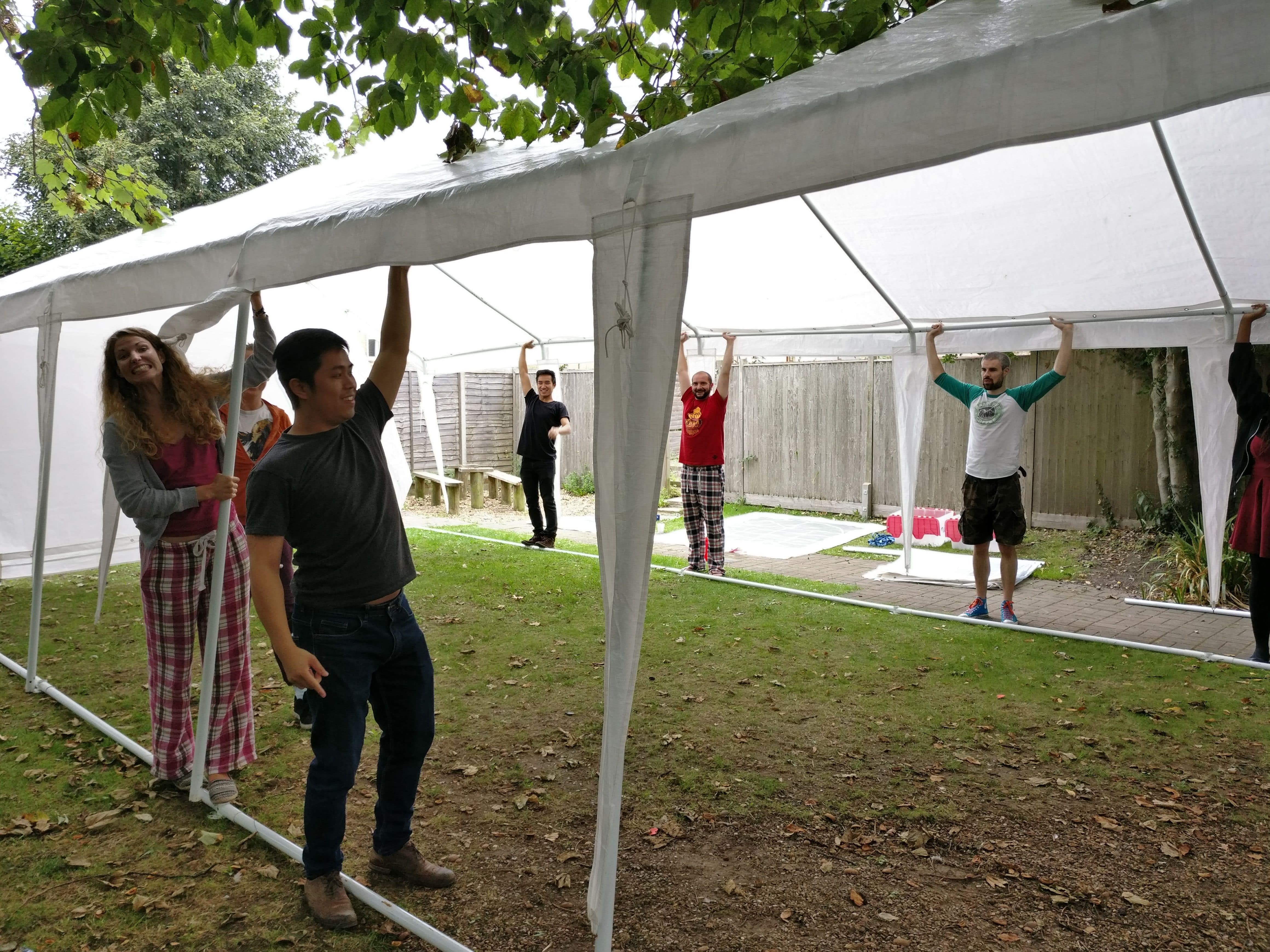 after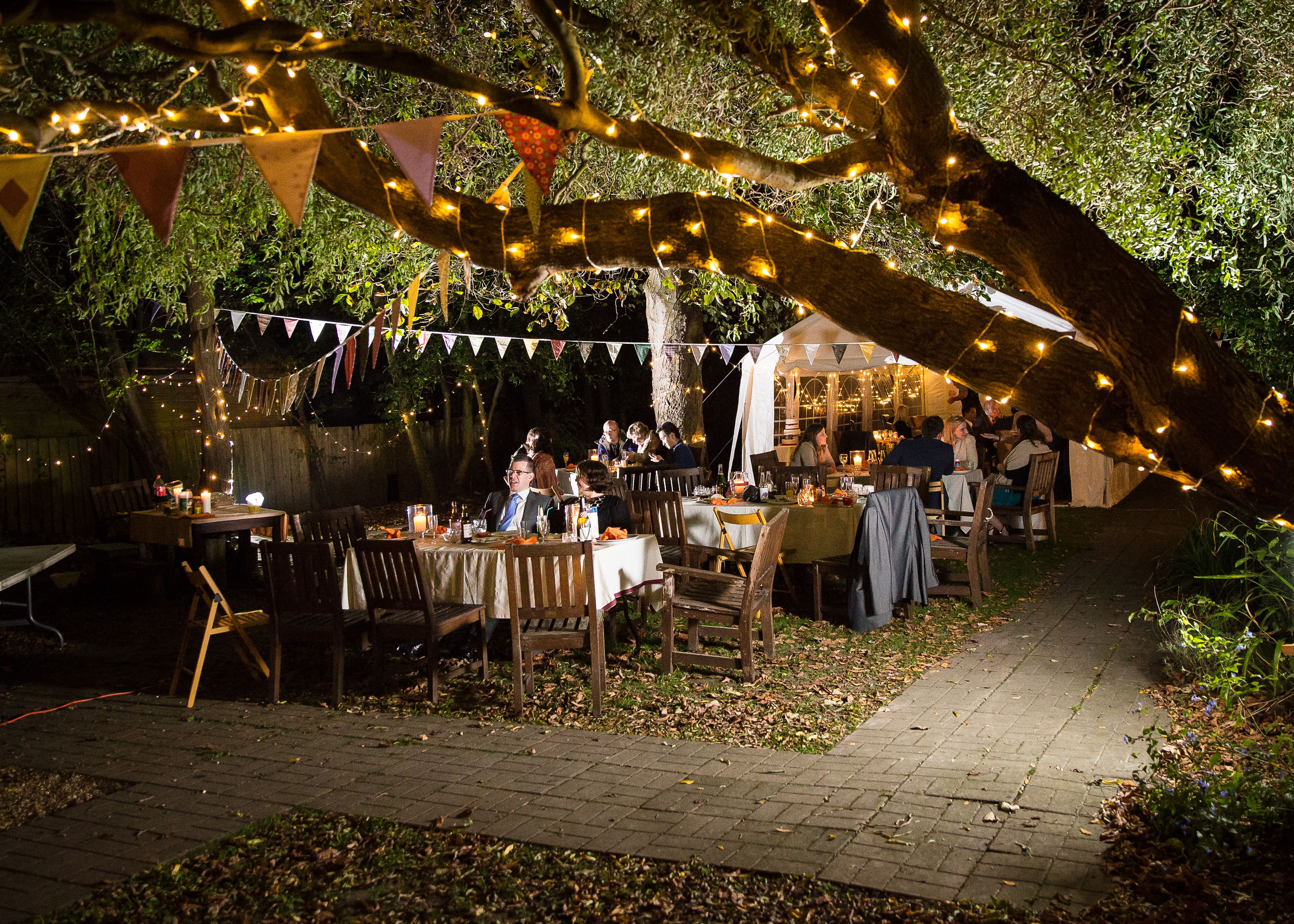 However, we did not account for this when calculating the portions while we stocked the bar. We estimated drink portions by assuming everyone would be having at least one serving of everything we stocked, apart from prosecco which we assumed would be 2 servings per person. (However we did end up with a reasonable amount left over, partially due to the addition of the homebrew.) For these calculations we used advice from this website.
Making table cloths (which are surprisingly expensive to buy), by bulk buying cloth from IKEA and sewing their edges with our own sewing machine was a big money saver.
We made Table decorations using spare ribbon cut offs found at fabric shops
Made our own flower bouquets and lapels using flowers bought from Aldi
Gemma's mom made our wedding cake for us
Gemma's grandma made many meters of bunting for us
Set up the house decoration, with lights / signs / etc. the night before the wedding
With the help of friends, prepared side dishes and snacks for reception using groceries bought from Aldi (a budget supermarket).
Where portioning was based on previous home gatherings being scaled up (which turned out to be too much in the end)
Here is a link to the full spreadsheet of our expenses, which has the breakdown and costs for the wedding
Results
While using the tactics and methods listed above, the hardest and most stressful time was the couple of days before the actual wedding day. This is when you finally get to piece together everything you've accumulated and find out what you forgot.
This can be a dangerous time for your budget, as you don't have the time to find good deals or cheaper alternatives, you just need it immediately.
I must admit that we've most definitely mis-calculated the cost of a few expenses (or had to update actual cost of items vs. when we researched) during this hectic period. One of the things that comes to mind are gifts for the people who helped get the wedding organised, it turned out we needed help from much more people to spread the work load.
Setting up the reception venue, as we expected, was the most stressful time of the wedding planning. Not only did we have to shift all our items to the house but we then had to manage the people to put and complete tasks according to what we imagined. Luckily for us, we had a great group of friends and family on hand to help us do it all, without them it would not have been even such a success.
I think it was our attitude towards the wedding which helped to keep costs down the most. Neither of us had that many traditions to fulfil and we were happy to question the "rules" for how a wedding is structured, to do what we felt we wanted.
Once the time came and most what we wanted was put into place, we were happy to just go with the flow of the day's celebrations. At this point it was not worth worrying about some of the little details that we'd missed. One of our married friends gave us some great advice for the day: That it will fly past and you need to make sure that you stop at least once to soak the moment in.